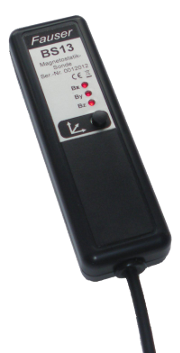 Magnetostatic field probe BS13
three-dimensional measuring of static magnetic fields
measuring range ± 100 µT
resolution 0,1 µT
switch to select between absolute and relative measurements
to be connected to the Fieldmeter FM10
continuous measurement and saving of single points with the Fieldmeter FM10L
excellent price-performance ratio
dimensions 132 x 40 x 25 mm
Simple handling with the control keys of the Fieldmeter FM10. Only one switch is needed to change between the absolute display of the magnetic field and a relative measurement. An analogue bar display makes fast detection of anomalies easy. An acoustical signal ist shiftable.
With the data-logger of the Fieldmeter FM10L/LS saving of single measuring points and continuous measurements are available.
With an optional available aluminium profile rail precise test series e.g. for analysing sleeping berths can be realized.