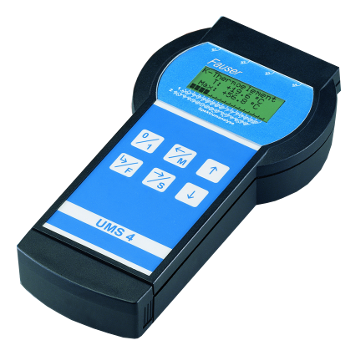 Measuring system UMS4
UMS 4 - offers operating convenience
Switch on the device, plug in the sensor, and the measured values are displayed
You can change sensors during operation thanks to automatic recognition
Only one device has to be operated in order to measure various quantities
All user-defined settings and the measured data are maintained even if the battery is changed
Comfortable administration of measured data using the PC program DATA-UMS
Display and control via a comfortable menu interface
UMS 4 - as output device
Acoustic signalling of measured quantities
An acoustic signal is generated when limit values are exceeded
4 analogue/digital outputs for controlling and adjusting
Serial interface for data transfer
Comfortable menu interface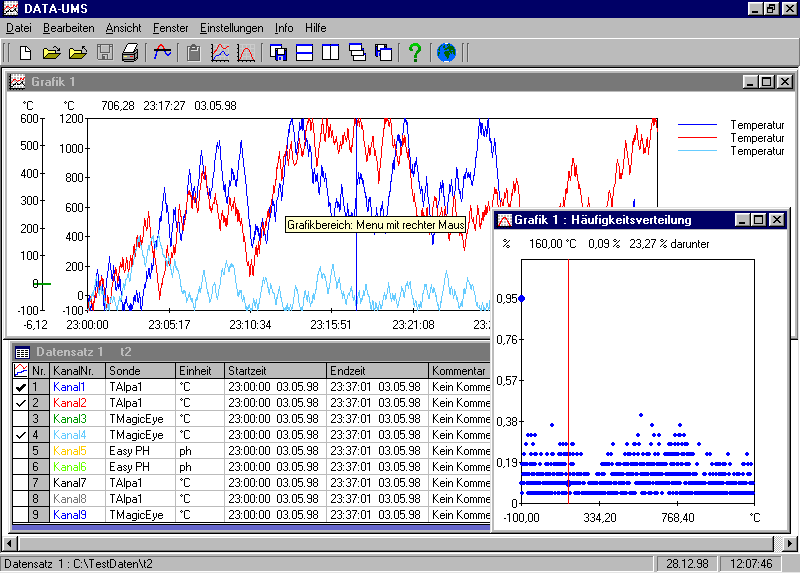 The menu interface of UMS 4 enables you to access all functions of the device quickly and easily via a pull-down menu and input forms.
The function menu includes different windows for presenting your measured data. In the overall display, the measured values of all active measurement channels are displayed in parallel rows that can be scrolled up and down in a window. In the individual display, you can configure an individual display window for each type of sensor; this window displays information like for example alternative units, combinatory quantities, minimum value, maximum value, mean value and analogue bar graph display. The frequency spectrum can be displayed for periodic measured quantities and individual frequencies can be registered by connecting up filters.
The main menu enables you to configure the measuring system UMS 4. Sensor control, the configuration of outputs, audio oscillator and the setting of device-specific parameters like for example sampling rates, energy-saving mode, and many more... can be carried out easily here. As far as the sensor control is concerned, you have to make the settings for the display, the ranges of measurement and limit values of the measuring sensors and the calibration of these.
The menu for saving data offers a wide range of options for registering measured data with a capacity of 114,688 values. Here you can control when to start/stop the recording process manually or via a timer and also various recording modes for data reduction and a prolongation of the operating time. This menu enables you to manage up to 128 measurement series as well as to transfer the data to the PC.
Software DATA-UMS
The measured data is edited very efficiently using the software DATA-UMS on a Windows 9x/2000/ME PC or notebook: Transfer of the recorded measured data in the PC, graphical presentation, evaluation of frequency, limit values, etc., compilation of a test record, printing and archiving. The intuitive menu guide, the context-sensitive online help that is directly integrated in the program, and additional automatic program functions enable you to create and print meaningful and pleasing graphics straightaway.
In addition, a large number of design options are available: zoom function, fading in of additional Y axes for presenting different measurements in order to create reference graphics, and many more.
With the DATA-UMS-Software, you can lay the foundations for a modern and future-oriented processing of your measured data. DATA-UMS is constantly refined and adapted to new sensors as well as to your requirements and wishes.